"Monument to Balzac"
Rodin spent seven years preparing for "Monument to Balzac" on several preparatory studies (showing different versions of Balzac). The final version (in plaster) was exhibited in Paris in 1898 (and it was then rejected by the conservative critics as an unfinished sketch). Only years after Rodin's death, his "Balzac" was cast in bronze (this is not an unusual practice; some works were even casts of early works that the artist never executed in bronze).
There is a subject about these posthumous casts: are they bronze reproductions or original works?
CIDOC CRM enables to express different views on the states of affairs, which we usually find in documentation. The ability to express different views in not an ambiguity. In this case, we present not unusual views: The first one describes a discontinuity in the physical process. The second view describes merely a complex physical process. The third view describes the materialized idea of the work. All these views refer to the same state of affairs and consequently are expected to be compatible with CRM and indeed can merge into one view.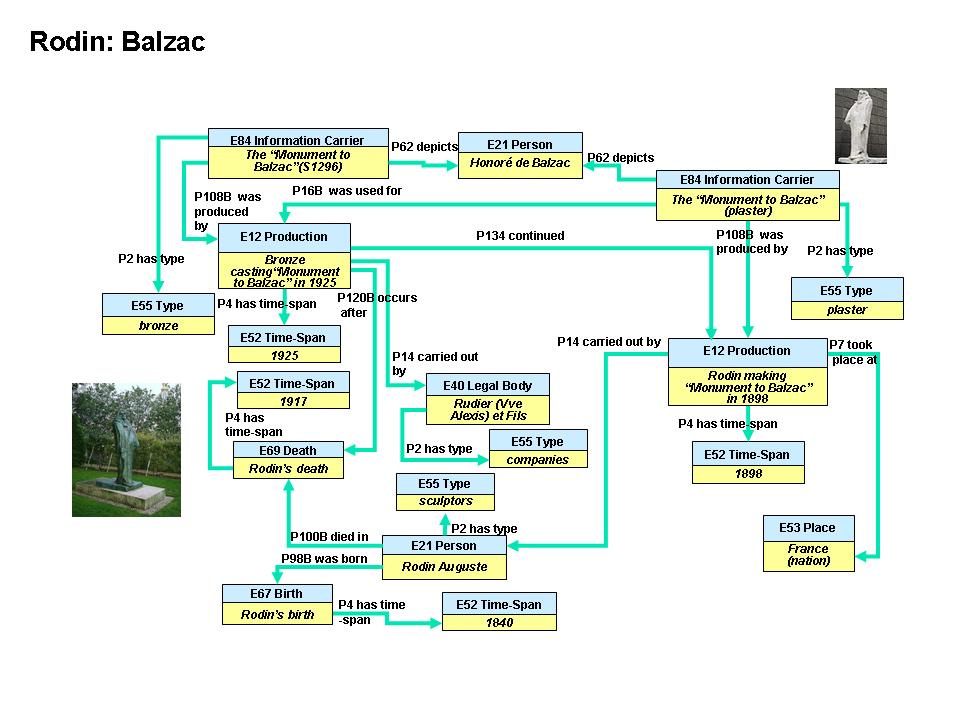 1st View: The use pf plaster "Balzac" for the posthumus production of a bronze "Balzac"
Balzac (Plaster work)
<?xml version="1.0" encoding="UTF-8"?>
<!DOCTYPE CRM_Core SYSTEM "CRM_Core2.dtd">
<!-- Example created by Athina Kritsotaki and Martin Doerr -->
<CRM_Core>
<Category>E84 Information Carrier</Category>
<Classification name_space="http://www.getty.edu/research/conducting_research/vocabularies/aat/">sculpture (visual work) </Classification>
<Classification name_space="http://www.getty.edu/research/conducting_research/vocabularies/aat/">plaster</Classification>
<Identification name_space="http://cidoc.ics.forth.gr/crm_core/demo">The Monument to Balzac (plaster)</Identification>
<Description>Commissioned to honor one of France's greatest novelists, Rodin spent seven years preparing for Monument to Balzac. When the plaster original was exhibited in Paris in 1898, it was widely attacked. Rodin retired the plaster model to his home in the Paris suburbs. It was not cast in bronze until years after his death.</Description>
<Event>
<Role_in_Event>P108B was produced by</Role_in_Event>
<Identification name_space="http://cidoc.ics.forth.gr/crm_core/demo">Rodin_making_Monument_to_Balzac_in_1898</Identification>
<Event_Type name_space="http://cidoc.ics.forth.gr/rdfs/cidoc_v4.2.rdfs">E12_Production</Event_Type>
<Participant>
<Identification name_space="http://www.getty.edu/research/conducting_research/vocabularies/ulan/">Rodin, Auguste</Identification>
<Identification name_space="http://www.getty.edu/research/conducting_research/vocabularies/ulan/">ID: 500016619</Identification>
<Participant_Type name_space="http://www.getty.edu/research/conducting_research/vocabularies/aat/">artists</Participant_Type>
<Participant_Type name_space="http://www.getty.edu/research/conducting_research/vocabularies/aat/">sculptors</Participant_Type>
</Participant>
<Date>1898</Date>
<Place name_space="http://www.getty.edu/research/conducting_research/vocabularies/tgn/">France (nation)</Place>
<RelatedEvent>
<Role_in_Event>P134B was continued by</Role_in_Event>
<Identification name_space="http://cidoc.ics.forth.gr/crm_core/demo">Bronze_casting_Monument_to_Balzac_in_1925</Identification>
</RelatedEvent>
</Event>
<Event>
<Role_in_Event>P16B was used for</Role_in_Event>
<Identification name_space="http://cidoc.ics.forth.gr/crm_core/demo">Bronze_casting_Monument_to_Balzac_in_1925</Identification>
<Event_Type name_space="http://cidoc.ics.forth.gr/rdfs/cidoc_v4.2.rdfs">E12_Production</Event_Type>
<Participant>
<Identification>http://mapage.noos.fr/shv2/saga_rudier.htm</Identification>
<Identification>Rudier (Vve Alexis) et Fils</Identification>
<Participant_Type name_space="http://www.getty.edu/research/conducting_research/vocabularies/aat/">companies</Participant_Type>
</Participant>
<Thing_Present>
<Identification name_space="http://www.musee-rodin.fr/welcome.htm">The Monument to Balzac (S.1296)</Identification>
<Thing_Present_Type name_space="http://www.getty.edu/research/conducting_research/vocabularies/aat/">bronze</Thing_Present_Type>
<Thing_Present_Type name_space="http://www.getty.edu/research/conducting_research/vocabularies/aat/">sculpture (visual work) </Thing_Present_Type>
</Thing_Present>
<Date>1925</Date>
<RelatedEvent>
<Role_in_Event>P120B occurs after</Role_in_Event>
<Identification name_space="http://cidoc.ics.forth.gr/crm_core/demo">Rodin's_death</Identification>
</RelatedEvent>
</Event>
<Relation>
<To>http://www.adpf.asso.fr/adpf-publi/folio/balzac/balzacSF.htm</To>
<To>Honore de Balzac</To>
<Relation_Type>
<refers_to/>
</Relation_Type>
</Relation>
</CRM_Core>
------------------------------------------------------------------------------------------------------------------------
Balzac (Bronze work)
<?xml version="1.0" encoding="UTF-8"?>
<!DOCTYPE CRM_Core SYSTEM "CRM_Core2.dtd">
<!-- Example created by Athina Kritsotaki and Martin Doerr -->
<CRM_Core>
<Category>E84 Information Carrier</Category>
<Classification name_space="http://www.getty.edu/research/conducting_research/vocabularies/aat/">sculpture (visual work) </Classification>
<Classification name_space="http://www.getty.edu/research/conducting_research/vocabularies/aat/">bronze</Classification>
<Identification name_space="http://www.musee-rodin.fr/welcome.htm">The Monument to Balzac (S.1296)</Identification>
<Description>Commissioned to honor one of France's greatest novelists, Rodin spent seven years preparing for Monument to Balzac. When the plaster original was exhibited in Paris in 1898, it was widely attacked. Rodin retired the plaster model to his home in the Paris suburbs. It was not cast in bronze until years after his death.</Description>
<Event>
<Role_in_Event>P108B was produced by</Role_in_Event>
<Identification name_space="http://cidoc.ics.forth.gr/crm_core/demo">Bronze_casting_Monument_to_Balzac_in_1925</Identification>
<Event_Type name_space="http://cidoc.ics.forth.gr/rdfs/cidoc_v4.2.rdfs">E12_Production</Event_Type>
<Participant>
<Identification>http://mapage.noos.fr/shv2/saga_rudier.htm</Identification>
<Identification>Rudier (Vve Alexis) et Fils</Identification>
<Participant_Type name_space="http://www.getty.edu/research/conducting_research/vocabularies/aat/">companies</Participant_Type>
</Participant>
<Thing_Present>
<Identification name_space="http://cidoc.ics.forth.gr/crm_core/demo">The Monument to Balzac (plaster)</Identification>
<Thing_Present_Type name_space="http://www.getty.edu/research/conducting_research/vocabularies/aat/">plaster</Thing_Present_Type>
<Thing_Present_Type name_space="http://www.getty.edu/research/conducting_research/vocabularies/aat/">sculpture (visual work) </Thing_Present_Type>
</Thing_Present>
<Date>1925</Date>
<RelatedEvent>
<Role_in_Event>P134 continued</Role_in_Event>
<Identification name_space="http://cidoc.ics.forth.gr/crm_core/demo">Rodin_making_Monument_to_Balzac_in_1898</Identification>
</RelatedEvent>
<RelatedEvent>
<Role_in_Event>P120B occurs after</Role_in_Event>
<Identification name_space="http://cidoc.ics.forth.gr/crm_core/demo">Rodin's_death</Identification>
</RelatedEvent>
</Event>
<Relation>
<To>http://www.adpf.asso.fr/adpf-publi/folio/balzac/balzacSF.htm</To>
<To>Honore de Balzac</To>
<Relation_Type>
<refers_to/>
</Relation_Type>
</Relation>
</CRM_Core>
-------------------------------------------------------------------------------------------------------------------------------------
Auguste Rodin
<?xml version="1.0" encoding="UTF-8"?>
<!DOCTYPE CRM_Core SYSTEM "CRM_Core2.dtd">
<!-- Example created by Athina Kritsotaki and Martin Doerr -->
<CRM_Core>
<Category>E21 Person</Category>
<Classification name_space="http://www.getty.edu/research/conducting_research/vocabularies/aat/" >artists</Classification>
<Classification name_space="http://www.getty.edu/research/conducting_research/vocabularies/aat/" >sculptors</Classification>
<Identification name_space="http://www.getty.edu/research/conducting_research/vocabularies/ulan/">Rodin, Auguste</Identification>
<Identification name_space="http://www.getty.edu/research/conducting_research/vocabularies/ulan/">ID: 500016619</Identification>
<Event>
<Role_in_Event>P98B was born</Role_in_Event>
<Identification name_space="http://cidoc.ics.forth.gr/crm_core/demo">Rodin's_birth</Identification>
<Event_Type name_space="http://cidoc.ics.forth.gr/rdfs/cidoc_v4.2.rdfs">E67_Birth</Event_Type>
<Date>1840</Date>
</Event>
<Event>
<Role_in_Event>P100B died in</Role_in_Event>
<Identification name_space="http://cidoc.ics.forth.gr/crm_core/demo">Rodin's_death</Identification>
<Event_Type name_space="http://cidoc.ics.forth.gr/rdfs/cidoc_v4.2.rdfs">E69_Death</Event_Type>
<Date>1917</Date>
<RelatedEvent>
<Role_in_Event>P120 occurs before</Role_in_Event>
<Identification name_space="http://cidoc.ics.forth.gr/crm_core/demo">Bronze_casting_Monument_to_Balzac_in_1925</Identification>
</RelatedEvent>
</Event>
</CRM_Core>
----------------------------------------------------------------------------------------------------------------------------------------
Rudier (Vve Alexis) et Fils
<?xml version="1.0" encoding="UTF-8"?>
<!DOCTYPE CRM_Core SYSTEM "CRM_Core2.dtd">
<!-- Example created by Athina Kritsotaki and Martin Doerr -->
<CRM_Core>
<Category>E40 Legal Body</Category>
<Classification name_space="http://www.getty.edu/research/conducting_research/vocabularies/aat/" target="_blank">http://www.getty.edu/research/conducting_research/vocabularies/aat/" >companies</Classification>
<Identification>http://mapage.noos.fr/shv2/saga_rudier.htm</Identification>
<Identification>Rudier (Vve Alexis) et Fils</Identification>
<Event>
<Role_in_Event>P95B was formed by</Role_in_Event>
<Identification name_space="http://cidoc.ics.forth.gr/crm_core/demo">Alexis Rudiers's company_foundation</Identification>
<Event_Type name_space="http://cidoc.ics.forth.gr/rdfs/cidoc_v4.2.rdfs">E66_Formation</Event_Type>
<Participant>
<Identification name_space="http://mapage.noos.fr/shv2/saga_rudier.htm">Alexis Rudier</Identification>
<Participant_Type name_space="http://www.getty.edu/research/conducting_research/vocabularies/aat/">founders (originators)</Participant_Type>
</Participant>
<Date>1875</Date>
<Place name_space="http://www.getty.edu/research/conducting_research/vocabularies/tgn/">France (nation)</Place>
</Event>
</CRM_Core>
---
2nd view: A complex work
Balzac (Plaster work)
<?xml version="1.0" encoding="UTF-8"?>
<!DOCTYPE CRM_Core SYSTEM "CRM_Core2.dtd">
<!-- Example created by Athina Kritsotaki and Martin Doerr -->
<CRM_Core>
<Category>E84 Information Carrier</Category>
<Classification name_space="http://www.getty.edu/research/conducting_research/vocabularies/aat/">sculpture (visual work) </Classification>
<Classification name_space="http://www.getty.edu/research/conducting_research/vocabularies/aat/">plaster</Classification>
<Identification name_space="http://cidoc.ics.forth.gr/crm_core/demo">The Monument to Balzac (plaster)</Identification>
<Description>Commissioned to honor one of France 's greatest novelists, Rodin spent seven years preparing for Monument to Balzac. When the plaster original was exhibited in Paris in 1898, it was widely attacked. Rodin retired the plaster model to his home in the Paris suburbs. It was not cast in bronze until years after his death.</Description>
<Event>
<Role_in_Event>P108B was produced by</Role_in_Event>
<Identification name_space="http://cidoc.ics.forth.gr/crm_core/demo">Making_Monument_to_Balzac</Identification>
<Event_Type name_space="http://cidoc.ics.forth.gr/rdfs/cidoc_v4.2.rdfs">E12_Production</Event_Type>
<Participant>
<Identification>http://mapage.noos.fr/shv2/saga_rudier.htm</Identification>
<Identification>Rudier (Vve Alexis) et Fils</Identification>
<Participant_Type name_space="http://www.getty.edu/research/conducting_research/vocabularies/aat/">companies</Participant_Type>
</Participant>
<Participant>
<Identification name_space="http://www.getty.edu/research/conducting_research/vocabularies/ulan/">Rodin, Auguste</Identification>
<Identification name_space="http://www.getty.edu/research/conducting_research/vocabularies/ulan/">ID: 500016619</Identification>
<Participant_Type name_space="http://www.getty.edu/research/conducting_research/vocabularies/aat/">artists</Participant_Type>
<Participant_Type name_space="http://www.getty.edu/research/conducting_research/vocabularies/aat/">sculptors</Participant_Type>
</Participant>
<Date>1898-1925</Date>
</Event>
<Relation>
<To>http://www.adpf.asso.fr/adpf-publi/folio/balzac/balzacSF.htm</To>
<To>Honore de Balzac</To>
<Relation_Type>
<refers_to/>
</Relation_Type>
</Relation>
</CRM_Core>
-------------------------------------------------------------------------------------------------------
Balzac (Bronze work)
<?xml version="1.0" encoding="UTF-8"?>
<!DOCTYPE CRM_Core SYSTEM "CRM_Core2.dtd">
<!-- Example created by Athina Kritsotaki and Martin Doerr -->
<CRM_Core>
<Category>E84 Information Carrier</Category>
<Classification name_space="http://www.getty.edu/research/conducting_research/vocabularies/aat/">sculpture (visual work) </Classification>
<Classification name_space="http://www.getty.edu/research/conducting_research/vocabularies/aat/">bronze</Classification>
<Identification name_space="http://www.musee-rodin.fr/welcome.htm">The Monument to Balzac (S.1296)</Identification>
<Description>Commissioned to honor one of France 's greatest novelists, Rodin spent seven years preparing for Monument to Balzac. When the plaster original was exhibited in Paris in 1898, it was widely attacked. Rodin retired the plaster model to his home in the Paris suburbs. It was not cast in bronze until years after his death.</Description>
<Event>
<Role_in_Event>P108B was produced by</Role_in_Event>
<Identification name_space="http://cidoc.ics.forth.gr/crm_core/demo">Making_Monument_to_Balzac</Identification>
<Event_Type name_space="http://cidoc.ics.forth.gr/rdfs/cidoc_v4.2.rdfs">E12_Production</Event_Type>
<Participant>
<Identification>http://mapage.noos.fr/shv2/saga_rudier.htm</Identification>
<Identification>Rudier (Vve Alexis) et Fils</Identification>
<Participant_Type name_space="http://www.getty.edu/research/conducting_research/vocabularies/aat/">companies</Participant_Type>
</Participant>
<Participant>
<Identification name_space="http://www.getty.edu/research/conducting_research/vocabularies/ulan/">Rodin, Auguste</Identification>
<Identification name_space="http://www.getty.edu/research/conducting_research/vocabularies/ulan/">ID: 500016619</Identification>
<Participant_Type name_space="http://www.getty.edu/research/conducting_research/vocabularies/aat/">artists</Participant_Type>
<Participant_Type name_space="http://www.getty.edu/research/conducting_research/vocabularies/aat/">sculptors</Participant_Type>
</Participant>
<Date>1898-1925</Date>
</Event>
<Relation>
<To>http://www.adpf.asso.fr/adpf-publi/folio/balzac/balzacSF.htm</To>
<To>Honore de Balzac</To>
<Relation_Type>
<refers_to/>
</Relation_Type>
</Relation>
</CRM_Core>
---
3rd view: The conception of Balzac
Balzac (Conceptual work)
<?xml version="1.0" encoding="UTF-8"?>
<!DOCTYPE CRM_Core SYSTEM "CRM_Core2.dtd">
<!-- Example created by Athina Kritsotaki and Martin Doerr -->
<CRM_Core>
<Category>E73 Information Object</Category>
<Identification name_space="http://cidoc.ics.forth.gr/crm_core/demo">Monument to Balzac</Identification>
<Description>Commissioned to honor one of France 's greatest novelists, Rodin spent seven years preparing for Monument to Balzac. When the plaster original was exhibited in Paris in 1898, it was widely attacked. Rodin retired the plaster model to his home in the Paris suburbs. It was not cast in bronze until years after his death.</Description>
<Event>
<Role_in_Event>P94B was created by</Role_in_Event>
<Identification name_space="http://cidoc.ics.forth.gr/crm_core/demo">The_conception_of_Monument_to_Balzac</Identification>
<Event_Type name_space="http://cidoc.ics.forth.gr/rdfs/cidoc_v4.2.rdfs">E65_Creation</Event_Type>
<Participant>
<Identification name_space="http://www.getty.edu/research/conducting_research/vocabularies/ulan/">Rodin, Auguste</Identification>
<Identification name_space="http://www.getty.edu/research/conducting_research/vocabularies/ulan/">ID: 500016619</Identification>
<Participant_Type name_space="http://www.getty.edu/research/conducting_research/vocabularies/aat/">artists</Participant_Type>
<Participant_Type name_space="http://www.getty.edu/research/conducting_research/vocabularies/aat/">sculptors</Participant_Type>
</Participant>
</Event>
<Relation>
<To>http://www.adpf.asso.fr/adpf-publi/folio/balzac/balzacSF.htm</To>
<To>Honore de Balzac</To>
<Relation_Type>
<refers_to/>
</Relation_Type>
</Relation>
</CRM_Core>
-------------------------------------------------------------------------------------------------------
Balzac (Plaster work)
<?xml version="1.0" encoding="UTF-8"?>
<!DOCTYPE CRM_Core SYSTEM "CRM_Core2.dtd">
<!-- Example created by Athina Kritsotaki and Martin Doerr -->
<CRM_Core>
<Category>E84 Information Carrier</Category>
<Classification name_space="http://www.getty.edu/research/conducting_research/vocabularies/aat/">sculpture (visual work) </Classification>
<Classification name_space="http://www.getty.edu/research/conducting_research/vocabularies/aat/">plaster</Classification>
<Identification name_space="http://cidoc.ics.forth.gr/crm_core/demo">The Monument to Balzac (plaster)</Identification>
<Description>Commissioned to honor one of France 's greatest novelists, Rodin spent seven years preparing for Monument to Balzac. When the plaster original was exhibited in Paris in 1898, it was widely attacked. Rodin retired the plaster model to his home in the Paris suburbs. It was not cast in bronze until years after his death.</Description>
<Event>
<Role_in_Event>P108B was produced by</Role_in_Event>
<Identification name_space="http://cidoc.ics.forth.gr/crm_core/demo">Rodin_making_Monument_to_Balzac_in_1898</Identification>
<Event_Type name_space="http://cidoc.ics.forth.gr/rdfs/cidoc_v4.2.rdfs">E12_Production</Event_Type>
<Participant>
<Identification name_space="http://www.getty.edu/research/conducting_research/vocabularies/ulan/">Rodin, Auguste</Identification>
<Identification name_space="http://www.getty.edu/research/conducting_research/vocabularies/ulan/">ID: 500016619</Identification>
<Participant_Type name_space="http://www.getty.edu/research/conducting_research/vocabularies/aat/">artists</Participant_Type>
<Participant_Type name_space="http://www.getty.edu/research/conducting_research/vocabularies/aat/">sculptors</Participant_Type>
</Participant>
<Thing_Present>
<Identification name_space="http://cidoc.ics.forth.gr/crm_core/demo">Monument to Balzac</Identification>
<Thing_Present_Type name_space="http://cidoc.ics.forth.gr/rdfs/cidoc_v4.2.rdfs">E73 Information Object</Thing_Present_Type>
</Thing_Present>
<Date>1898</Date>
<Place name_space="http://www.getty.edu/research/conducting_research/vocabularies/tgn/">France (nation)</Place>
</Event>
<Event>
<Role_in_Event>P16B was used for</Role_in_Event>
<Identification name_space="http://cidoc.ics.forth.gr/crm_core/demo">Bronze_casting_Monument_to_Balzac_in_1925</Identification>
<Event_Type name_space="http://cidoc.ics.forth.gr/rdfs/cidoc_v4.2.rdfs">E12_Production</Event_Type>
<Participant>
<Identification>http://mapage.noos.fr/shv2/saga_rudier.htm</Identification>
<Identification>Rudier (Vve Alexis) et Fils</Identification>
<Participant_Type name_space="http://www.getty.edu/research/conducting_research/vocabularies/aat/">companies</Participant_Type>
</Participant>
<Thing_Present>
<Identification name_space="http://www.musee-rodin.fr/welcome.htm">The Monument to Balzac (S.1296)</Identification>
<Thing_Present_Type name_space="http://www.getty.edu/research/conducting_research/vocabularies/aat/">bronze</Thing_Present_Type>
<Thing_Present_Type name_space="http://www.getty.edu/research/conducting_research/vocabularies/aat/">sculpture (visual work) </Thing_Present_Type>
</Thing_Present>
<Thing_Present>
<Identification name_space="http://cidoc.ics.forth.gr/crm_core/demo">Monument to Balzac</Identification>
<Thing_Present_Type name_space="http://cidoc.ics.forth.gr/rdfs/cidoc_v4.2.rdfs">E73 Information Object</Thing_Present_Type>
</Thing_Present>
<Date>1925</Date>
</Event>
<Relation>
<To>http://www.adpf.asso.fr/adpf-publi/folio/balzac/balzacSF.htm</To>
<To>Honore de Balzac</To>
<Relation_Type>
<refers_to/>
</Relation_Type>
</Relation>
</CRM_Core>
-------------------------------------------------------------------------------------------------------
Balzac (Bronze work)
<?xml version="1.0" encoding="UTF-8"?>
<!DOCTYPE CRM_Core SYSTEM "CRM_Core2.dtd">
<!-- Example created by Athina Kritsotaki and Martin Doerr -->
<CRM_Core>
<Category>E84 Information Carrier</Category>
<Classification name_space="http://www.getty.edu/research/conducting_research/vocabularies/aat/">sculpture (visual work) </Classification>
<Classification name_space="http://www.getty.edu/research/conducting_research/vocabularies/aat/">bronze</Classification>
<Identification name_space="http://www.musee-rodin.fr/welcome.htm">The Monument to Balzac (S.1296)</Identification>
<Description>Commissioned to honor one of France 's greatest novelists, Rodin spent seven years preparing for Monument to Balzac. When the plaster original was exhibited in Paris in 1898, it was widely attacked. Rodin retired the plaster model to his home in the Paris suburbs. It was not cast in bronze until years after his death.</Description>
<Event>
<Role_in_Event>P108B was produced by</Role_in_Event>
<Identification name_space="http://cidoc.ics.forth.gr/crm_core/demo">Bronze_casting_Monument_to_Balzac_in_1925</Identification>
<Event_Type name_space="http://cidoc.ics.forth.gr/rdfs/cidoc_v4.2.rdfs">E12_Production</Event_Type>
<Participant>
<Identification>http://mapage.noos.fr/shv2/saga_rudier.htm</Identification>
<Identification>Rudier (Vve Alexis) et Fils</Identification>
<Participant_Type name_space="http://www.getty.edu/research/conducting_research/vocabularies/aat/">companies</Participant_Type>
</Participant>
<Thing_Present>
<Identification name_space="http://cidoc.ics.forth.gr/crm_core/demo">Monument to Balzac</Identification>
<Thing_Present_Type name_space="http://cidoc.ics.forth.gr/rdfs/cidoc_v4.2.rdfs">E73 Information Object</Thing_Present_Type>
</Thing_Present>
<Date>1925</Date>
</Event>
<Relation>
<To>http://www.adpf.asso.fr/adpf-publi/folio/balzac/balzacSF.htm</To>
<To>Honore de Balzac</To>
<Relation_Type>
<refers_to/>
</Relation_Type>
</Relation>
</CRM_Core>
---
4rth view: The merger of the three views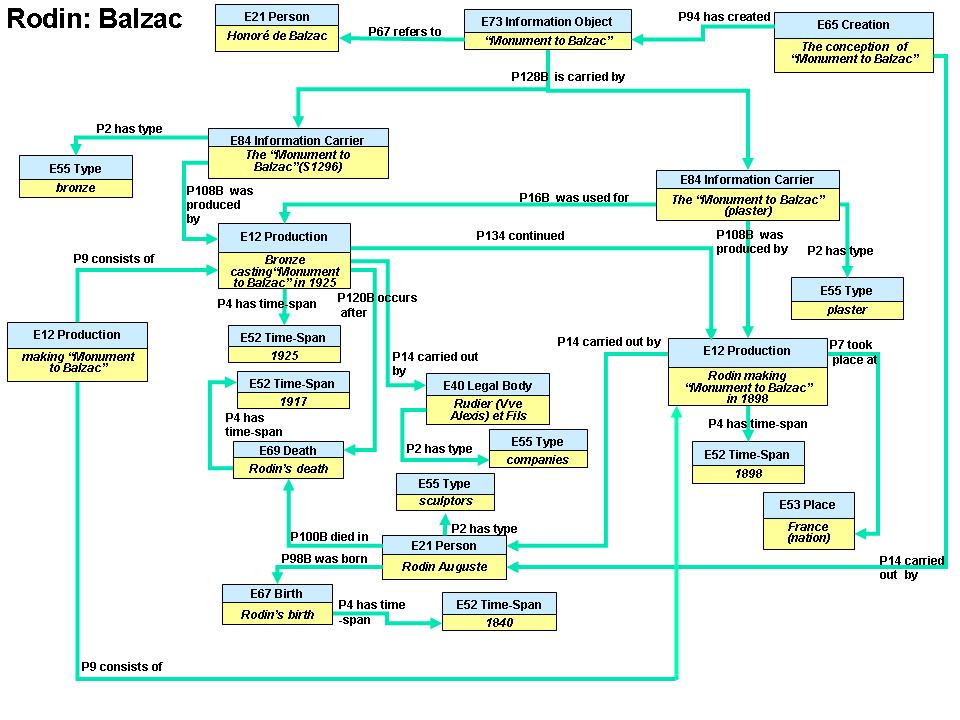 Balzac (Plaster work)
<?xml version="1.0" encoding="UTF-8"?>
<!DOCTYPE CRM_Core SYSTEM "CRM_Core2.dtd">
<!-- Example created by Athina Kritsotaki and Martin Doerr -->
<CRM_Core>
<Category>E84 Information Carrier</Category>
<Classification name_space="http://www.getty.edu/research/conducting_research/vocabularies/aat/">sculpture (visual work) </Classification>
<Classification name_space="http://www.getty.edu/research/conducting_research/vocabularies/aat/">plaster</Classification>
<Identification name_space="http://cidoc.ics.forth.gr/crm_core/demo">The Monument to Balzac (plaster)</Identification>
<Description>Commissioned to honor one of France 's greatest novelists, Rodin spent seven years preparing for Monument to Balzac. When the plaster original was exhibited in Paris in 1898, it was widely attacked. Rodin retired the plaster model to his home in the Paris suburbs. It was not cast in bronze until years after his death.</Description>
<Event>
<Role_in_Event>P108B was produced by</Role_in_Event>
<Identification name_space="http://cidoc.ics.forth.gr/crm_core/demo">Rodin_making_Monument_to_Balzac_in_1898</Identification>
<Event_Type name_space="http://cidoc.ics.forth.gr/rdfs/cidoc_v4.2.rdfs">E12_Production</Event_Type>
<Participant>
<Identification name_space="http://www.getty.edu/research/conducting_research/vocabularies/ulan/">Rodin, Auguste</Identification>
<Identification name_space="http://www.getty.edu/research/conducting_research/vocabularies/ulan/">ID: 500016619</Identification>
<Participant_Type name_space="http://www.getty.edu/research/conducting_research/vocabularies/aat/">artists</Participant_Type>
<Participant_Type name_space="http://www.getty.edu/research/conducting_research/vocabularies/aat/">sculptors</Participant_Type>
</Participant>
<Thing_Present>
<Identification name_space="http://cidoc.ics.forth.gr/crm_core/demo">Monument to Balzac</Identification>
<Thing_Present_Type name_space="http://cidoc.ics.forth.gr/rdfs/cidoc_v4.2.rdfs">E73 Information Object</Thing_Present_Type>
</Thing_Present>
<Date>1898</Date>
<Place name_space="http://www.getty.edu/research/conducting_research/vocabularies/tgn/">France (nation)</Place>
<RelatedEvent>
<Role_in_Event>P9B forms part of</Role_in_Event>
<Identification name_space="http://cidoc.ics.forth.gr/crm_core/demo">Making_Monument_to_Balzac</Identification>
</RelatedEvent>
<RelatedEvent>
<Role_in_Event>P134B was continued by</Role_in_Event>
<Identification name_space="http://cidoc.ics.forth.gr/crm_core/demo">Bronze_casting_Monument_to_Balzac_in_1925</Identification>
</RelatedEvent>
</Event>
<Event>
<Role_in_Event>P108B was produced by</Role_in_Event>
<Identification name_space="http://cidoc.ics.forth.gr/crm_core/demo">Making_Monument_to_Balzac</Identification>
<Event_Type name_space="http://cidoc.ics.forth.gr/rdfs/cidoc_v4.2.rdfs">E12_Production</Event_Type>
<RelatedEvent>
<Role_in_Event>P9 consists of</Role_in_Event>
<Identification name_space="http://cidoc.ics.forth.gr/crm_core/demo">Rodin_making_Monument_to_Balzac_in_1898</Identification>
</RelatedEvent>
<RelatedEvent>
<Role_in_Event>P9 consists of</Role_in_Event>
<Identification name_space="http://cidoc.ics.forth.gr/crm_core/demo">Bronze_casting_Monument_to_Balzac_in_1925</Identification>
</RelatedEvent>
</Event>
<Event>
<Role_in_Event>P16B was used for</Role_in_Event>
<Identification name_space="http://cidoc.ics.forth.gr/crm_core/demo">Bronze_casting_Monument_to_Balzac_in_1925</Identification>
<Event_Type name_space="http://cidoc.ics.forth.gr/rdfs/cidoc_v4.2.rdfs">E12_Production</Event_Type>
<Participant>
<Identification>http://mapage.noos.fr/shv2/saga_rudier.htm</Identification>
<Identification>Rudier (Vve Alexis) et Fils</Identification>
<Participant_Type name_space="http://www.getty.edu/research/conducting_research/vocabularies/aat/">companies</Participant_Type>
</Participant>
<Thing_Present>
<Identification name_space="http://www.musee-rodin.fr/welcome.htm">The Monument to Balzac (S.1296)</Identification>
<Thing_Present_Type name_space="http://www.getty.edu/research/conducting_research/vocabularies/aat/">bronze</Thing_Present_Type>
<Thing_Present_Type name_space="http://www.getty.edu/research/conducting_research/vocabularies/aat/">sculpture (visual work) </Thing_Present_Type>
</Thing_Present>
<Thing_Present>
<Identification name_space="http://cidoc.ics.forth.gr/crm_core/demo">Monument to Balzac</Identification>
<Thing_Present_Type name_space="http://cidoc.ics.forth.gr/rdfs/cidoc_v4.2.rdfs">E73 Information Object</Thing_Present_Type>
</Thing_Present>
<Date>1925</Date>
<RelatedEvent>
<Role_in_Event>P120B occurs after</Role_in_Event>
<Identification name_space="http://cidoc.ics.forth.gr/crm_core/demo">Rodin's_death</Identification>
</RelatedEvent>
</Event>
<Relation>
<To>http://www.adpf.asso.fr/adpf-publi/folio/balzac/balzacSF.htm</To>
<To>Honore de Balzac</To>
<Relation_Type>
<refers_to/>
</Relation_Type>
</Relation>
</CRM_Core>
-------------------------------------------------------------------------------------------------------
Balzac (Bronze work)
<?xml version="1.0" encoding="UTF-8"?>
<!DOCTYPE CRM_Core SYSTEM "CRM_Core2.dtd">
<!-- Example created by Athina Kritsotaki and Martin Doerr -->
<CRM_Core>
<Category>E84 Information Carrier</Category>
<Classification name_space="http://www.getty.edu/research/conducting_research/vocabularies/aat/">sculpture (visual work) </Classification>
<Classification name_space="http://www.getty.edu/research/conducting_research/vocabularies/aat/">bronze</Classification>
<Identification name_space="http://www.musee-rodin.fr/welcome.htm">The Monument to Balzac (S.1296)</Identification>
<Description>Commissioned to honor one of France 's greatest novelists, Rodin spent seven years preparing for Monument to Balzac. When the plaster original was exhibited in Paris in 1898, it was widely attacked. Rodin retired the plaster model to his home in the Paris suburbs. It was not cast in bronze until years after his death.</Description>
<Event>
<Role_in_Event>P108B was produced by</Role_in_Event>
<Identification name_space="http://cidoc.ics.forth.gr/crm_core/demo">Bronze_casting_Monument_to_Balzac_in_1925</Identification>
<Event_Type name_space="http://cidoc.ics.forth.gr/rdfs/cidoc_v4.2.rdfs">E12_Production</Event_Type>
<Participant>
<Identification>http://mapage.noos.fr/shv2/saga_rudier.htm</Identification>
<Identification>Rudier (Vve Alexis) et Fils</Identification>
<Participant_Type name_space="http://www.getty.edu/research/conducting_research/vocabularies/aat/">companies</Participant_Type>
</Participant>
<Thing_Present>
<Identification name_space="http://cidoc.ics.forth.gr/crm_core/demo">The Monument to Balzac (plaster)</Identification>
<Thing_Present_Type name_space="http://www.getty.edu/research/conducting_research/vocabularies/aat/">plaster</Thing_Present_Type>
<Thing_Present_Type name_space="http://www.getty.edu/research/conducting_research/vocabularies/aat/">sculpture (visual work) </Thing_Present_Type>
</Thing_Present>
<Thing_Present>
<Identification name_space="http://cidoc.ics.forth.gr/crm_core/demo">Monument to Balzac</Identification>
<Thing_Present_Type name_space="http://cidoc.ics.forth.gr/rdfs/cidoc_v4.2.rdfs">E73 Information Object</Thing_Present_Type>
</Thing_Present>
<Date>1925</Date>
<RelatedEvent>
<Role_in_Event>P9B forms part of</Role_in_Event>
<Identification name_space="http://cidoc.ics.forth.gr/crm_core/demo">Making_Monument_to_Balzac</Identification>
</RelatedEvent>
<RelatedEvent>
<Role_in_Event>P134 continued</Role_in_Event>
<Identification name_space="http://cidoc.ics.forth.gr/crm_core/demo">Rodin_making_Monument_to_Balzac_in_1898</Identification>
</RelatedEvent>
<RelatedEvent>
<Role_in_Event>P120B occurs after</Role_in_Event>
<Identification name_space="http://cidoc.ics.forth.gr/crm_core/demo">Rodin's_death</Identification>
</RelatedEvent>
</Event>
<Event>
<Role_in_Event>P108B was produced by</Role_in_Event>
<Identification name_space="http://cidoc.ics.forth.gr/crm_core/demo">Making_Monument_to_Balzac</Identification>
<Event_Type name_space="http://cidoc.ics.forth.gr/rdfs/cidoc_v4.2.rdfs">E12_Production</Event_Type>
<RelatedEvent>
<Role_in_Event>P9 consists of</Role_in_Event>
<Identification name_space="http://cidoc.ics.forth.gr/crm_core/demo">Rodin_making_Monument_to_Balzac_in_1898</Identification>
</RelatedEvent>
<RelatedEvent>
<Role_in_Event>P9 consists of</Role_in_Event>
<Identification name_space="http://cidoc.ics.forth.gr/crm_core/demo">Bronze_casting_Monument_to_Balzac_in_1925</Identification>
</RelatedEvent>
</Event>
<Relation>
<To>http://www.adpf.asso.fr/adpf-publi/folio/balzac/balzacSF.htm</To>
<To>Honore de Balzac</To>
<Relation_Type>
<refers_to/>
</Relation_Type>
</Relation>
</CRM_Core>
-------------------------------------------------------------------------------------------------------
Balzac (Conceptual work)
<?xml version="1.0" encoding="UTF-8"?>
<!DOCTYPE CRM_Core SYSTEM "CRM_Core2.dtd">
<!-- Example created by Athina Kritsotaki and Martin Doerr -->
<CRM_Core>
<Category>E73 Information Object</Category>
<Identification name_space="http://cidoc.ics.forth.gr/crm_core/demo">Monument to Balzac</Identification>
<Description>Commissioned to honor one of France 's greatest novelists, Rodin spent seven years preparing for Monument to Balzac. When the plaster original was exhibited in Paris in 1898, it was widely attacked. Rodin retired the plaster model to his home in the Paris suburbs. It was not cast in bronze until years after his death.</Description>
<Event>
<Role_in_Event>P94B was created by</Role_in_Event>
<Identification name_space="http://cidoc.ics.forth.gr/crm_core/demo">The_conception_of_Monument_to_Balzac</Identification>
<Event_Type name_space="http://cidoc.ics.forth.gr/rdfs/cidoc_v4.2.rdfs">E65_Creation</Event_Type>
<Participant>
<Identification name_space="http://www.getty.edu/research/conducting_research/vocabularies/ulan/">Rodin, Auguste</Identification>
<Identification name_space="http://www.getty.edu/research/conducting_research/vocabularies/ulan/">ID: 500016619</Identification>
<Participant_Type name_space="http://www.getty.edu/research/conducting_research/vocabularies/aat/">artists</Participant_Type>
<Participant_Type name_space="http://www.getty.edu/research/conducting_research/vocabularies/aat/">sculptors</Participant_Type>
</Participant>
</Event>
<Relation>
<To>http://www.adpf.asso.fr/adpf-publi/folio/balzac/balzacSF.htm</To>
<To>Honore de Balzac</To>
<Relation_Type>
<refers_to/>
</Relation_Type>
</Relation>
</CRM_Core>