CIDOC Conceptual Reference Model Special Interest Group
CIDOC CRM SIG Meeting
Barcelona, July 5th, 2001
Dear SIG members,

After some delays due to technical problems out of our control, we have the pleasure to invite you to the first meeting of the CIDOC CRM Special Interest Group.

The status of the CIDOC CRM is as follows:

A mature committee draft has been submitted and accepted by ISO TC46, SC4. In the meanwhile, the testing of the model has proceeded significantly. This implies an equally mature proposal for a slight extension of the model, in order to cover Dublin Core semantics, EAD and some dozen other data formats in the museum domain. The model is currently being successfully used to transform heterogeneous museum data into a common representation with CIDOC CRM semantics in a collaboration with CIMI and the Harmony project, and it is basis for several other standardization activities. We are now completely confident in the validity of the approach and overall content.
We need now:
the support of the wider community of museum professional, implementors, researchers, end users, for dissemination, application and experience feed-back, and know-how transfer.
the widest possible consensus on the necessary scope of a first conceptual reference model for the cultural area, not only seen from the insiders, but also seen from the information seeking community. This implies in particular the library and record keeping communities, educators and researchers, and IT implementors in the area.
the critical review of the current proposal and the formulation of any additional requirements to fulfill the agreed on scope.
Over the time to come, we shall also seek support in the creation of related documention, both for the ISO process and for all other outreach activities.

The meeting will take place in Barcelona, on July 5th, right after the CIDOC conference:
Room IT P4.1
Institut del Teatre (IT),
Pl. Margarida Xirgu, s/n
08038 Barcelona.
from 9 am to 18'45 pm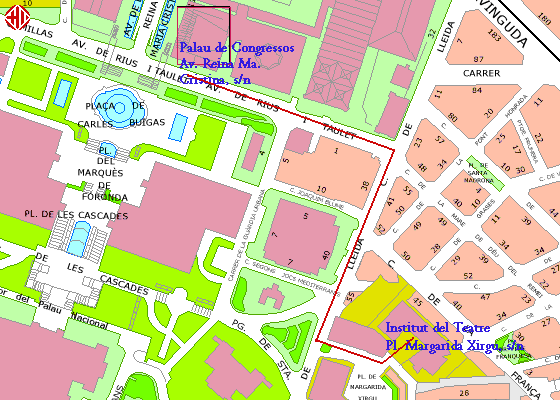 Area map of Barcelona
It is within the ICOM Meeting facilities, and known to the ICOM Conference organizers. See the ICOM Conference Homesite: http://www.icom2001barcelona.org/default.htm.

This meeting will have the purpose to:
Introduce the members of the SIG to the CIDOC Conceptual reference model, contents and related activities.
Introduce the members to the status and support needs of the ISO process for the CIDOC CRM.
To agree on the function and procedures of the SIG.
To set up a scope and requirements for the CIDOC CRM in the form to become ISO standard.
To establish a feedback procedure to prepare for final decisions on the next meeting.
To discuss further activities.
A more detailed agenda will be sent at a later date.

We kindly ask all partners to prepare carefully for this meeting. The respective documentation is on our web-site http://cidoc.ics.forth.gr. This meeting is thought to answer all questions about the CIDOC CRM and its utility.

Please inform me, if you encounter difficulties to attend this meeting.

best wishes,

Martin Doerr